Details
HQJ-1100 A4 model Full Automatic Paper Roll Sheet Cutting Machine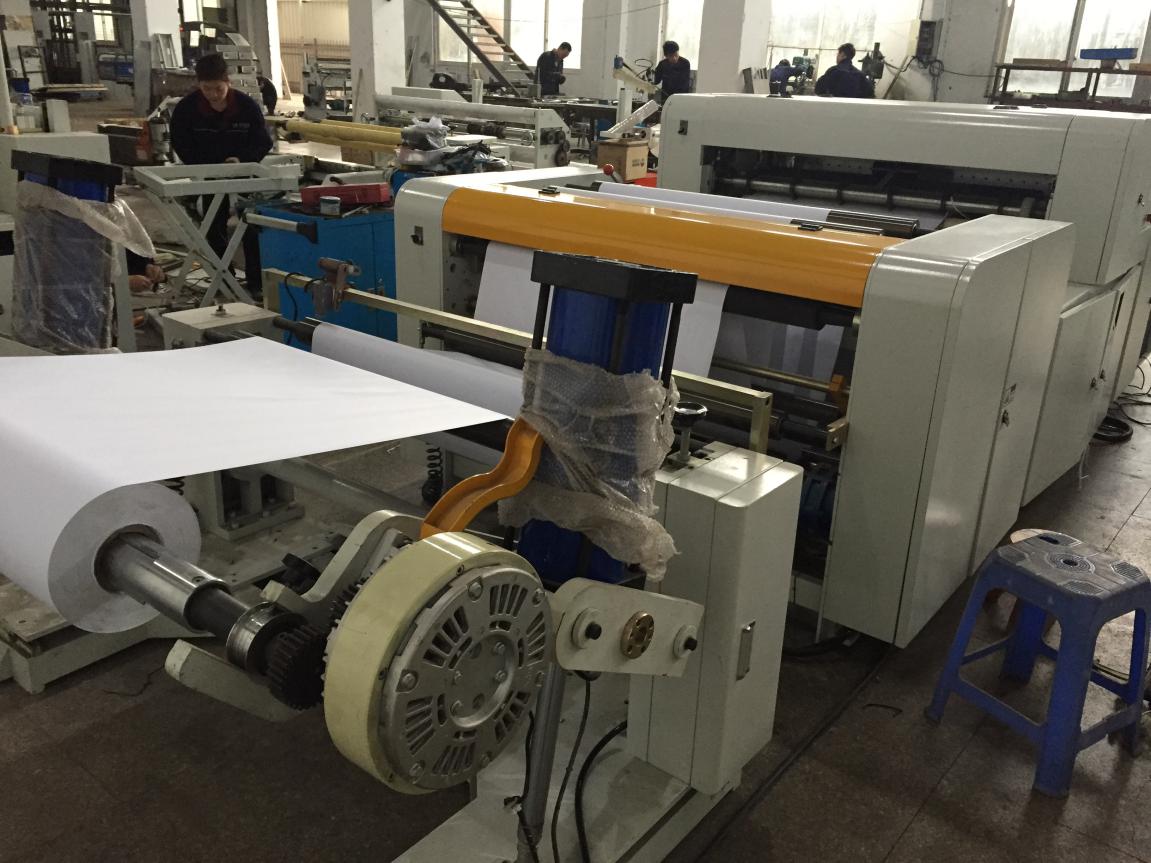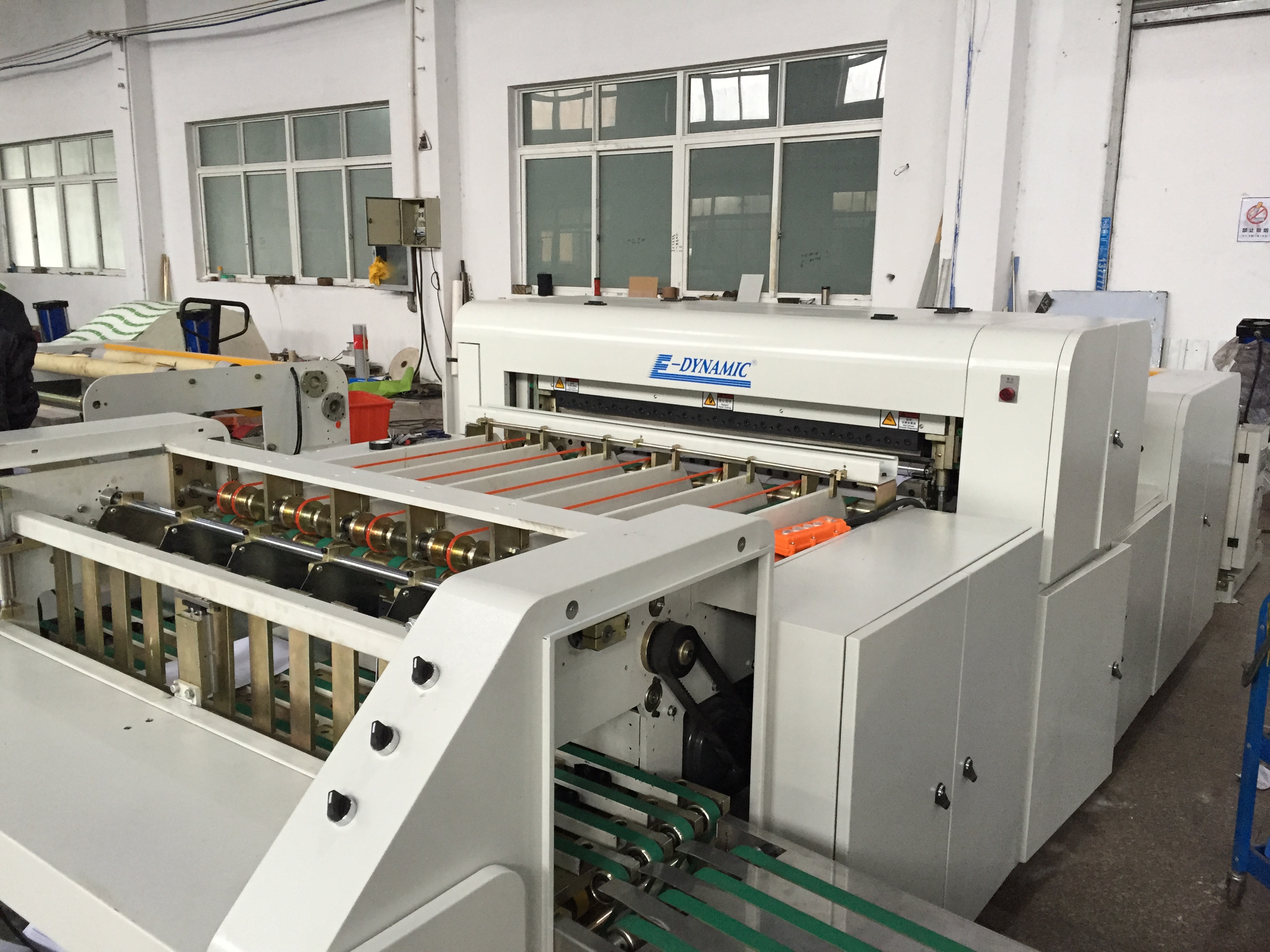 Suitable for
This machine suitable for a lot of paper, film, paper&film laminated etc best jumbo roll
cutting machine. It is top quality cutting machine in china.
Characteristic
1.Main engine frequency adjust speed,PLC touch screen control system,auto counter quantity,
auto fixed length, auto machine stop when had alarm , auto tension control etc function.
2.Feeding roll use auto loading system(150 cylinder), air shaft use 3 (76mm paper tube
core)
3.Machine rock use 10mm thick steel plate with groove steel structure. Bottom of cutting
knife use heavy casting structure, Guide rollers using static balanced aluminum alloy guide
roller.
4.Traction drive fixed position use servo motor system, traction driver roller use steel
structure. Feeding traction way is through motor move the chain wheel to drag the rubber
roller. The receiving platform is normal automatic finished materials table, control by
motor.
5.Our Machine is best jumbo roll cross cutting machine, it have high precision. High speed
and receiving sheet paper flat.
Main Technical Parameters
Model HQJ-A4-1100
Max.Diameter of Unwinding 1400mm
Max. Cutting Width 1100mm
Cutting Length 20-400mm
Cutting Speed 10-200times per min
Cutting Precision 0.2mm
Total Power 9.5KW
Machine Size(LxWxH) 6000×2000×1450mm
Machine Configuration£º
1 Unwinding Unit
1 Machinery rock use steel plate and casting steel structure.
2 Automatic magnetic tension control system
3 Control way through PLC tape control way(Panasonic Japan)
4 Tension control range 3-100KG
5 Tension magnetic use 10KG controller(1set, Huaguang, Zhejiang)
6 Unwinding shaft use air shaft type
7 Driver roller use aluminum roller, through static balanced aluminum alloy guide roller.
8 Base material position can be adjust.
9 Automatic loading equipment structure system
10 Unwinding use photocell control edge position control system(EPC) (WUXI)
2 Main Engine Unit
1 Machinery rock use 10 high quality steel plate structure.
2 Use 10mm casting steel support(Spec 40×80×1500mm)
Traction Unit:
1 Structure type: driver roller drag passive pinch roller
2 Traction base use casting structure(1set)
3 Traction roller use rubble roller
4 Compression way control by cylinder
5 Driver roller use aluminum
6 Driver roller can be up and down adjust
7 Adjust way: manual adjust control by handle wheel
8 Motor use frequency adjust speed1.5kw (1pcs Shanghai)
9 Frequency use V andT Shenzhen1.5kw 1pcs
10 Feeding use arm hholding material buffering mechanism.
11 Float roller up and down tension use pneumatic traction way
12 Float roller use aluminum
13 Whole feeding structure control by sense
2 Feeding Material Unit
1 Fixed length control by servo motor
2 3 kw Invt motor brand (1pcs)
3 Whole machine project control system use digital project system driving way,main
motor drive the roller to fixed position
4 Drive by synchronous belt and synchronous wheel transmission mechanism.
5 Feeding roll use rubble roller structure(bottom roller use steel roller)
3 Cutting Unit:
1 Cutting way: bottom cutter fixed, Top cutter make cutting
2 Bottom cutter use heavy casting structure
3 Linear guide way (2pcs)
4 Oil box (2pcs)
5 Lubricating oil can be recycled
6 Bottom&Top cutter use special import bar balance steel cutter
7 Cutter(1pcs Shanghai joint venture)
8 Operation way: adjust cutter position by manual
9 Main drive way: Main motor drive to match the eccentric wheel transmission linkage rod
reciprocates cutter
10 Main motor use frequency adjust motor(1.5kw) (1pcs Shanghai brand)
11 Frequency use V andT brand (1.5kw 1pcs)
12 Drive use synchronous wheel drive structure
13 Eccentric wheel (2set)
14 Connecting rod (2pcs)
4 Slitting unit:
1 Slitting way: active bottom of knife £¬drag the up of knife to slitting
2 use round knife structure(6set)
3 up of down roller use hollow steel roller(Spec£º1pcs 50×1150m)
4 Up of round knife use Shanghai shenglong tool company(Spec£º50×14.2×105mm)can freely
adjust
5 bottom of knife use steel roller(Spec£º1pcs 60×1150m)
6 bottom of round knife use shanghai shenglong tool company.(Spec£º60×14.2×80mm)
stereotypes adjusting sleeve(customer need provide product Spec)
7 Slitting Precision£º0.2mm
8 Driver way£ºuse chain and feeding roller linkage.
9 Operation way£ºmanual adjust knife position
10 Scrap material handling devices using the blower to blow.
3 Electrical control unit:( machine control by PLC project control system( PLC use
Japan,touch screen use Taiwan)
1 The machine control system can be divided into computer control, tension control¡£
2 Computer control: including the main motor control, traction control, feed control,
cutting control.
3 Tension control: rewinding tension, speed control of a wide range, regardless of low
speed have good performance. And feeding a floating tension control.
4 With electronic meter count; machine alarm stop; automatic fixed length
5 Use delixi brand electric components and France Schneider switch
4 Concerned accessories£º(buyer one own risk)
1 supply£º3 phase 4 wire£ºvoltage 380V / 50Hz
2 Air compressor£ºMax. 5.5kg/cm2×5m3/min
Look back [Automatic Roll to Sheet Cutting Machine]